東京オリンピックが開催されるかどうか
まだ色々とわからないところもありますが
ISAからTOKYO 2020 Olympic Surfing Formatが
リリースされました。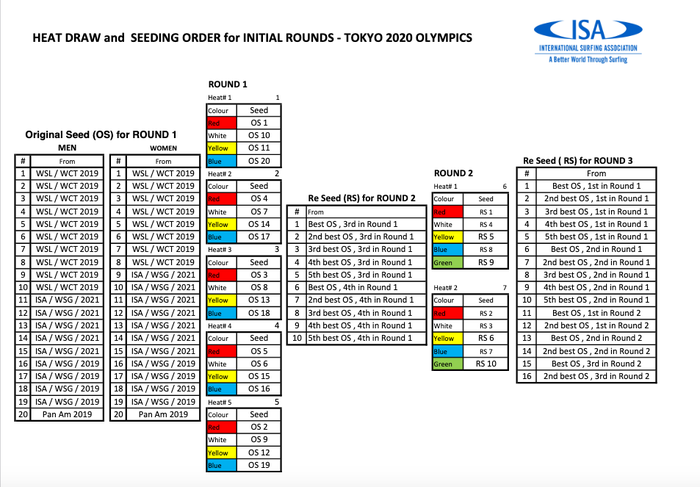 Men'sはWCTの上位10人
Gabriel Medina, Italo Ferreira(Brazil) ,
Kolohe Andino and John John Florence (USA),
Owen Wright and Julian Wilson(Australia)
Michel Bourez and Jeremey Flores(France)
,Jordy Smith (South Africa), Kanoa Igarashi (Japan)
2019 Pan American GamesからLucca Mesinas (Peru)
2019 ISA World Surfing Games から4人、Frederico Morais (Portugal), Ramzi Boukhiam (Morocco),
Shun Murakami (Japan), and Billy Stairmand (New Zealand).
あとの5人は2021 World Sufing Gamesから選ばれます。
Round 1のヒート表を見るとヒートごとに
WCTから2人、WSG/Pan Amから2人。
ISAによると2019 WCTのランキングが考慮されるということですので
Original Seed (OS) for Round 1 は
1.Italo, 2.Medina, 3.Jordy, 4.Kolohe, 5. Kanoa, 6. John John,
7.Owen, 8.Jeremy, 9.Julian, 10.Michel.
となると、Round 1ではJohn John とKanoa がHeat4で当たりそう。
こうやってヒート表を見ると
なんとなく、盛り上がって来ますね (^ ^)